972-241-4433
COMPONEER, direct composite veneers, are polymerised, pre-fabricated nano-hybrid-composite enamel-shells, which combine the advantages of direct composite restoration with those of lab-made Veneers.
COMPONEER are a completely new class of veneers. They are manufactured industrially from highly filled nano-hybrid-composite which ensures excellent homogeneity and stability of the enamel shells. The extremely thin veneer coatings from 0.3 mm allow a high level of conservation of hard tooth substance during preparation. The shiny and naturally designed surface adds a look of vitality to the restoration.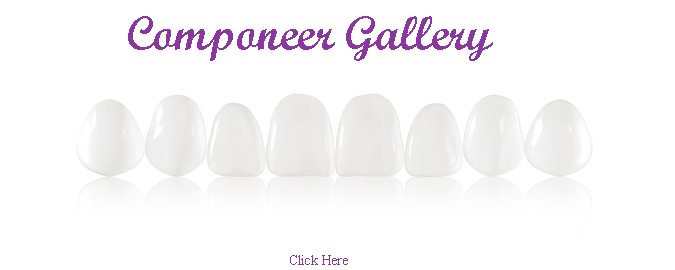 With COMPONEER, quality aesthetic restoration of anterior teeth can be performed efficiently in just a single session. Until now the dentist could only choose between a directly modelled composite restoration or elaborate indirect veneer technology. The Direct Composite Veneering System adds a new and interesting dimension to existing treatment options and gives dentists and patients new economic perspectives. Patients can be given a naturally aesthetic smile in just a single session, and set off smiling – with a "smile to go".
The pre-shaped COMPONEER veneers are available in different sizes and are easy to use for single-tooth reconstruction as well as complete reconstruction in the anterior region. Time-consuming forming of the anatomical shape and surface and elaborate trimming are no longer required. COMPONEER can be customised to individual requirements with composite at any time.
The novel micro-retentive inner surface increases wettability and ensures a durable bond. Special conditioning of the veneer is not necessary. All this makes COMPONEER a milestone in veneer technology. A well-thought-out range of instruments, as well as comprehensive information material for dentists and patients, round off the product line. This quickly gives the user the information required to perform attractive, natural restorations effectively and economically.
Summary
COMPONEER is a polymerised, original composite manufactured by Coltène/Whaledent AG.
COMPONEER is cemented-in with the same material, which makes the complete restoration one single solid unit (dentine/enamel + composite + COMPONEER).
COMPONEER is designed for dentists who want a simple means of preparing complex anterior restorations with composite.
The prefabricated COMPONEER forms the anatomical base for reconstruction of a single tooth or the complete dentition in the anterior region.
The pre-fabricated shape does not require major trimming.
The reconstruction can be completed quickly and easily to achieve an aesthetic, functional and high-quality result.
COMPONEER is economical and efficient (the patient saves money, the dentist saves time and also money without the need to invest in expensive equipment).
COMPONEER is designed as an alternative to conventional ceramic-veneer restorations. Dentist and patient must decide which type of treatment is suitable for the specific situation.